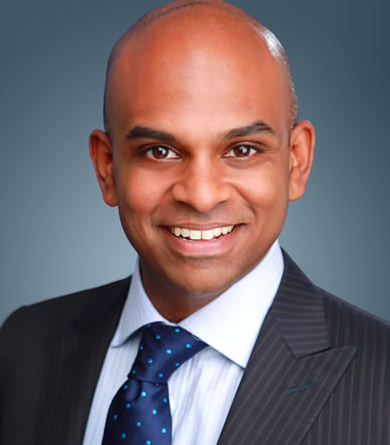 Specialty:
Orthopedic Surgery
Hip Reconstruction
Knee Reconstruction
Joint Replacement
Address:
Summit Orthopedics
Chevy Chase Building
5530 Wisconsin Ave, Ste. 1660
Chevy Chase, Maryland 20815
Dr. Gautam Siram is a fellowship trained hip and knee reconstruction/replacement surgeon. A native Washingtonian, he received his B.A. in economics from the University of Maryland, College Park where he graduated Magna Cum Laude. He went on to receive his medical degree from the Mount Sinai School of Medicine in NYC and then completed his orthopedic residency at Howard University in Washington DC. Dr. Siram then further pursued specialized training at the renowned Anderson Orthopedic Clinic, learning both the art and science of hip and knee joint replacement surgery.
He serves as the director of Outpatient Joint Replacement for John Hopkins Sibley Memorial Hospital and serves on the Board of directors for the operating room as well. He is one of the busiest joint replacement surgeons in the DC area as well as the most compassionate and patient friendly. He strives to reduce surgical time as well as recovery time for his patient.
His surgical interests include the minimally invasive muscle sparing anterior approach for hip replacement with the use of the specialized Hana ® table, minimally invasive partial and total knee joint replacement surgery using both standard and patient specific, custom instrumentation, and complex revision surgeries for hip and knee joint replacements.
Today, Dr. Siram is highly skilled and experienced in performing orthopedic joint replacements and reconstructive surgeries. He is dedicated to educating himself about the latest changes and advancements and he currently maintains membership in the American Academy of Orthopedic Surgeons and the Adult Hip and Knee Society. He is an active board member for the Anderson Orthopedic Clinic. He currently serves as an Assistant Professor at Howard University.