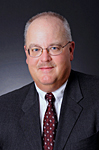 Address:
10215 Fernwood Rd #250
Bethesda, MD 20817
Dr. Lewis Townsend is board certified in Obstetrics and Gynecology.   His practice is now limited to Gynecology.   Dr. Townsend received his medical degree from The George Washington University, and completed his residency at Georgetown University Hospital.   Dr. Townsend has been recognized by Washingtonian Magazine as one of the "Top Gynecologists" in the Tri-State area for many years.
Dr. Townsend specializes in laparoscopic surgery, minimally invasive laparoscopic hysterectomies, hysteroscopic procedures, colposcopy and laser surgery.   Dr. Townsend also specializes in menopausal management and in the management of abnormal Pap Smears.